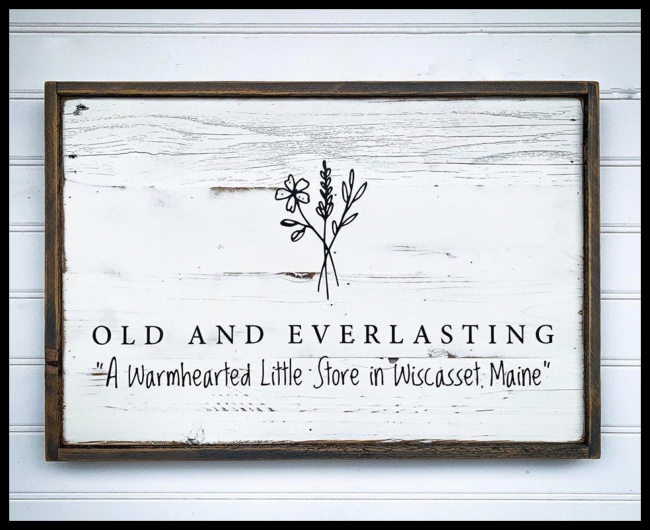 We are excited to announce the opening of our new Old and Everlasting store
at 49 Water Street in Wiscasset, Maine!  We do hope you come visit!
Offering Home and Garden Goods, Accessories and More!
 Summer and Fall Store hours are …
Wednesday through Saturday 11-4 and Sunday 12-4. 
Closed Mondays and Tuesdays. *Occasionally these hours may vary so please
do check before coming a long distance.
*Closed for the Christmas Holiday December 23rd through December 31st.
January SALE ~ January 1st thru January 4th   11am to 4pm
Closed the remainder of January.
WINTER STORE HOURS in February and March~Open Friday and Saturday 11-4
 About us…
For many years our joy has been to have lived and worked on our cherished little farm in Cazenovia, NY. Included on this property was our store Old and Everlasting.
We were honored to share something that we truly loved with so many.
The setting was serene and one of a kind…a wonderful old building and barn with history. The store was filled to the brim with Home Goods, Cards, Books, Women's Clothing and Accessories and so much more. After 28 years we felt a gentle push telling us to move on…   Along this road of life often the landscapes change but the desires of the heart remain the same. Our love for New England began a new journey for us with an Old and Everlasting Greeting Card Line and a brand new store in Wiscasset, Maine! So do come visit us…our store is happily filled with our favorite Old and Everlasting merchandise just for you…
 Our Old and Everlasting Greeting Card Line is available here on our website
as well as in our new store.
Our prayer is to inspire and offer a way to share friendship and love
with our lovely Greeting Cards and our store. 
We hope to see you in Maine…
Old and Everlasting
  Water Street, Wiscasset, Maine
 And our retail journey continues…

Old and Everlasting
PO BOX 91
49 Water Street
Wiscasset, Maine 04578
Phone  207-882-5533
Everlasting Thanks… 
Marianne and Rob