Ready…Set…Go!
There's something that you should know! 
Our Old and Everlasting Greeting Cards have arrived!
  Store owners please refer to our Wholesale page.
          Listed below are some of the wonderful stores that carry our cards.
And just to brag…a wee bit...look at one of the lovely notes we received from a customer.
A very dear customer…

 Be sure to LIKE us on our Old and Everlasting FACEBOOK page and follow us on Instagram.
And do visit our store in the beautiful village of Wiscasset, Maine!
 We are located at 49 Water Street in the Historic District.
So many ways to connect with Old and Everlasting!
 We are thrilled to announce that our cards are
Now Available
to purchase right here on our website!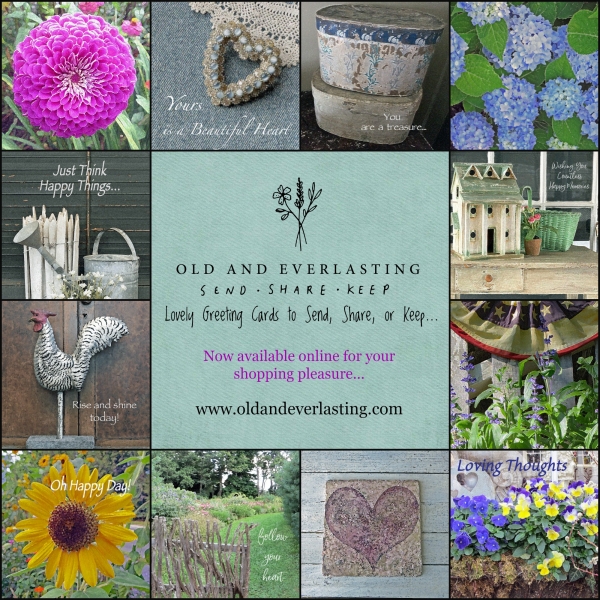 And here are some of the stores that carry our cards…
    New York State
Diane Prince Furniture and Gifts
92 S Main Street
Fairport, NY 14450
585-388-0060
www.dianeprincefurniture.com
The Potter Hill Barn
3864 NY Rt 7
Housick Falls, NY  12090
518-686-7777
www.potterhillbarn.com
The Shoppes at Johnny Appleseed
3402 Old State Road
Erieville, NY  13061
315-235-9451
Grisamore Farms
749 Cowan Road
Locke, NY  13092
607-592-3922
www.grisamorefarms.com
The Cinnamon Stick
26 Mechanic Street
Hammondsport, NY  14840
607-569-2277
www.cinnamonstick.com
Strawberry Fields
4240 E. Genesee Street Road
Auburn, NY  13021
315-751-5657
www.strawberryfieldsupick.com
Bailiwick
878 Gorham Road
Elbridge, NY  13060
315-559-9437
www.bailiwickmarket.com
20 East
85 Albany Street
Cazenovia, NY  13035
315-815-4540
www.20-east.com
Pomodoro
61 East Genesee Street
Skaneateles, NY  13152
315-685-8658
MAINE
Old and Everlasting
PO Box 91
49 Water Street
Wiscasset, Maine 04578
207-882-5533
www.oldandeverlasting.com