December 17th, 2018
December Greetings…
Here we are in the most Merry month of all…December.  We truly hope that your
December is a busy and happy one. We surely know that it is busy for most and we pray that it
is happy for all. Our December has been unfolding with many firsts…
We begin with this sweet face…
This dear pup joined our household on December 1st. One of us thought perhaps it would be a
good idea to have a puppy. (-:   Have you noticed the gleam in her eye yet?  That small hint
signifies trouble…just a wee bit though.  We are madly in love with Miss Mabel. Although
maybe not so much if she had succeeded chewing the corner of the wall this morning.
Phew…caught that just in time!  Another reminder that none of us are perfect and when it
comes to LOVE…so much can be forgiven.
So here we have Mabel…in Latin her name means Beautiful and Lovable…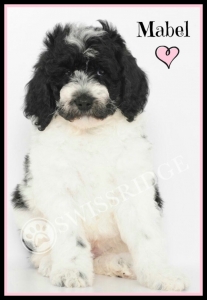 It was a journey to Canada to Swiss Ridge Kennels to pick her up.
Sharing this amazing experience with our friend Joanie made it even better.
It was a joyful day filled with puppies! All sizes and colors to melt your heart…
Imagine our excitement as we waited for the gate to open…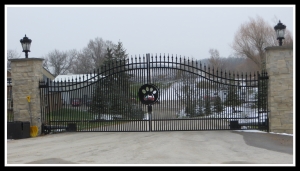 And so the story begins…The Tale (tail) of Three Doodles…
To be continued in 2019…
Just a small but adorable addition to our Greeting Card line. (-:
Happy Holiday 2018 from our girls!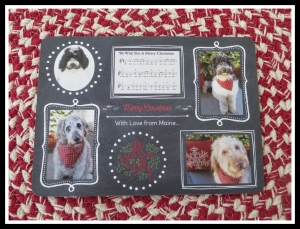 Did I mention Greeting Cards???
Yes indeed I did!  We are off and running!
At the moment Fifty more designs are being worked on with much Glee!
After the Holidays we plan on pressing the fast forward button and hope to launch
in the Springtime!  So looking forward to a quiet winter to be creative and
inspired. Miss Mabel you better be on board and cooperate. (-:
 Mabel Anne Mabel Anne…be a good girl if you can!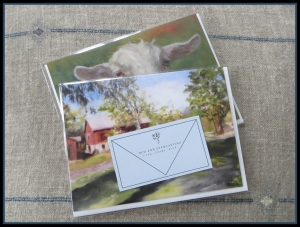 Puppies, Greeting Cards, and a Christmas Tree…
First experiences….and Blessings…
A puppy to fill our lives and teach us about Patience and Love…
An eventful first in 12 years…
Greeting Cards to remind us that Dreams really do come true…
A true first….a way to share Love …each of us…The hand written word can mean so much
and make such a difference in someones life.
And a very special Christmas Tree this year.
The first in our home in ten years. Our cherished ornaments…
So much has changed in those years…Life changes, Business changes…
Now there is Time…time to rest…time to savor each day…slowly…
So we share our humble Christmas Tree which means the world to us.
We remember the last time we decorated our tree…Mom was with us…
So many memories of her falling asleep on the couch as we filled the branches.
Trying to be quiet and so Thankful for her presence…
As she is with us today…I know this for sure…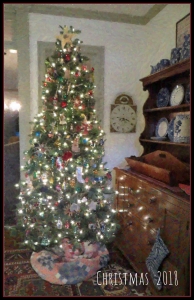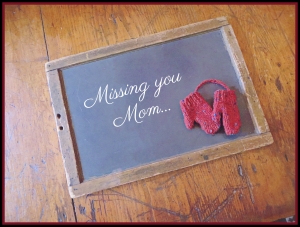 Blessings to you all this Holy Season…
May your hearts and homes be overflowing with the Love of family and friends.
Merry Christmas with Everlasting Love…
Marianne and Rob